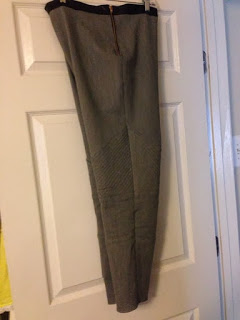 Ok so here are the jeans that turned out OK except.. the fact that its way too low in the back! There are some other issues that appeared that I will describe below:
Pattern used: McCalls OOP 6404 slender legging pants in four styles
Fabrics used: Stretch Grey Denim from fabric.com with leather trim obtained from Michael Levine.
Pattern alterations: I took the front leg piece and divided it into four other pieces and quilted the top piece in the front and the back. I only altered the back piece into two pieces, added a gold metal zipper, and a leather band.


What should have been done:
Crotch area made higher in the back, bottom pants piece made at least three inches longer and slimmer at the bottom, the waistband increased by at least two more inches, and keep the metal zipper insertion.
I will make the pants again perhaps in another color or the same grey denim but applying the mentioned alterations.
Update: it was suggested that I remove the leather band, add a yoke with the left over quilted pieces I have and add a new leather band but larger.