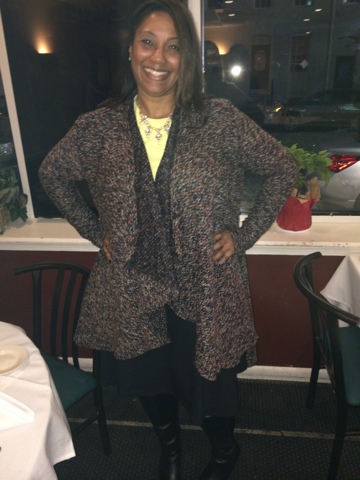 Hello Fam!
Here is a cure sweater coat I made a few months back from Burda Style #113. This pattern is extremely easy to create. With putting the pattern together, cutting and sewing I would say it took about three hours.
I did make a few alterations to the pattern. I cut the small size and it was still swimming on me so I curved the waist area a bit so it would not be so boxy. I would also suggest measuring the sleeve in the bicep area as this sleeve is created on the slim side. This fabric did not have much stretch too it as it was some kind of woven tweed knit I obtained from Mood Fabrics on sale.
Its very versatile though and you can wear it with almost anything. While they suggest about 4 yards of fabric, I did not use my full 4 yards and had quite a bit left over.. Which can be annoying as I don't like throwing large scraps a way.
I love the high-low part of it and it can be dressed up or down with jeans and as I have it on here a cute skater skirt and knee boots..
Thanks more to come 🙂