Self-Drafted Strapless Top and Skirt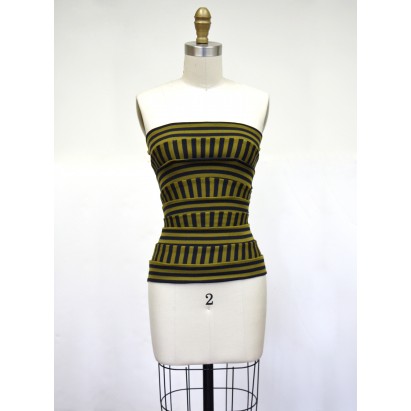 Hello Good People!
When Mood had this fabric (a Navy/Pea Wool Jersey) on sale about two months ago and I saw the example that they created here:
I knew I had to have the fabric and create this, I ordered a "New York Cut" yard of fabric. However, its very generous at 62″ wide.. I was able to make a skirt AND this top.
The top is cut in vertical and horizontal stripes, in fact the original creation was way to big! Wouldn't hold up a dern thing! I had to shave off at least another 1.5 to 2″ from each side.. I completed it in about three hours!
Here are the final results:
Here are a few close-ups from when I first created it.. looks cute with sandals too!
Sorry this was a rush photo job! Will get better soon!
Thanks for reading! *mauh*