At 8:00 am yesterday morning the jacket looked like this ..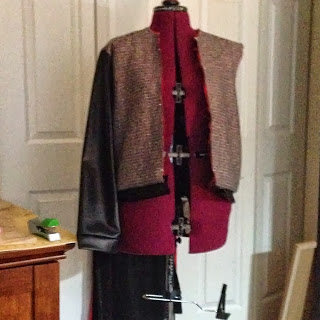 By 9:30 PM the jacket was completed to this below!
This is a leather and wool tweed jacket made with lambskin leathers from
Michael Levine Fabrics
. The wool and tweed was purchased from A Fabric Place in Baltimore, zipper from GStreet Fabrics. I have to say the pattern was fairly easy, the only difficulty came when attaching the collar.
Alterations:
The leather sleeve was attached to the bodice then the lining inserted versus the instructions who have you inserting the lining into the sleeve then attaching the sleeve and over-locking.
Project Review Detailed
Pattern Description: Lined baseball jacket
Pattern Used: New Look 6226
Pattern Sizing: 14
Did it look like the photo/drawing on the pattern envelope once you were done? Yes, just like the pattern but with alterations
Were the instructions easy to follow? Yes!
What did you particularly like or dislike about the pattern? Nothing its a great sporty jacket
Fabric Used:
100% Wool Tweed and Lambskin leathers from
Michael Levine Fabrics
Pattern alterations or any design changes you made:
Just changed how the sleeves are inserted with the lining.
Would you sew it again? Yes, I can see this in a silk or Quilted but not this season!