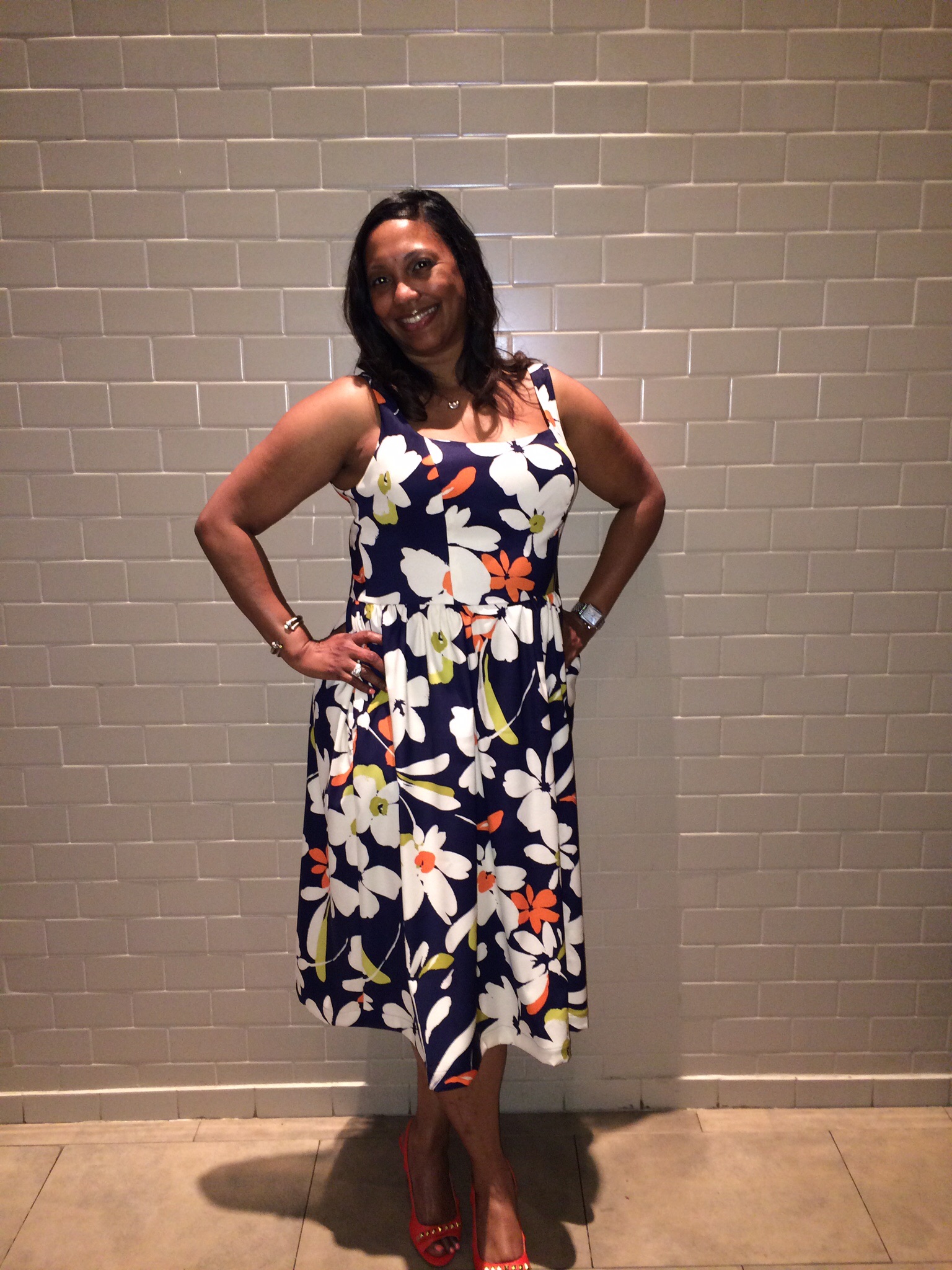 Hello Darlings..
Well summer here in the District of Columbia and Maryland is coming to and end 🙁 However, the summer type of weather does not end until the end of September sometimes into October.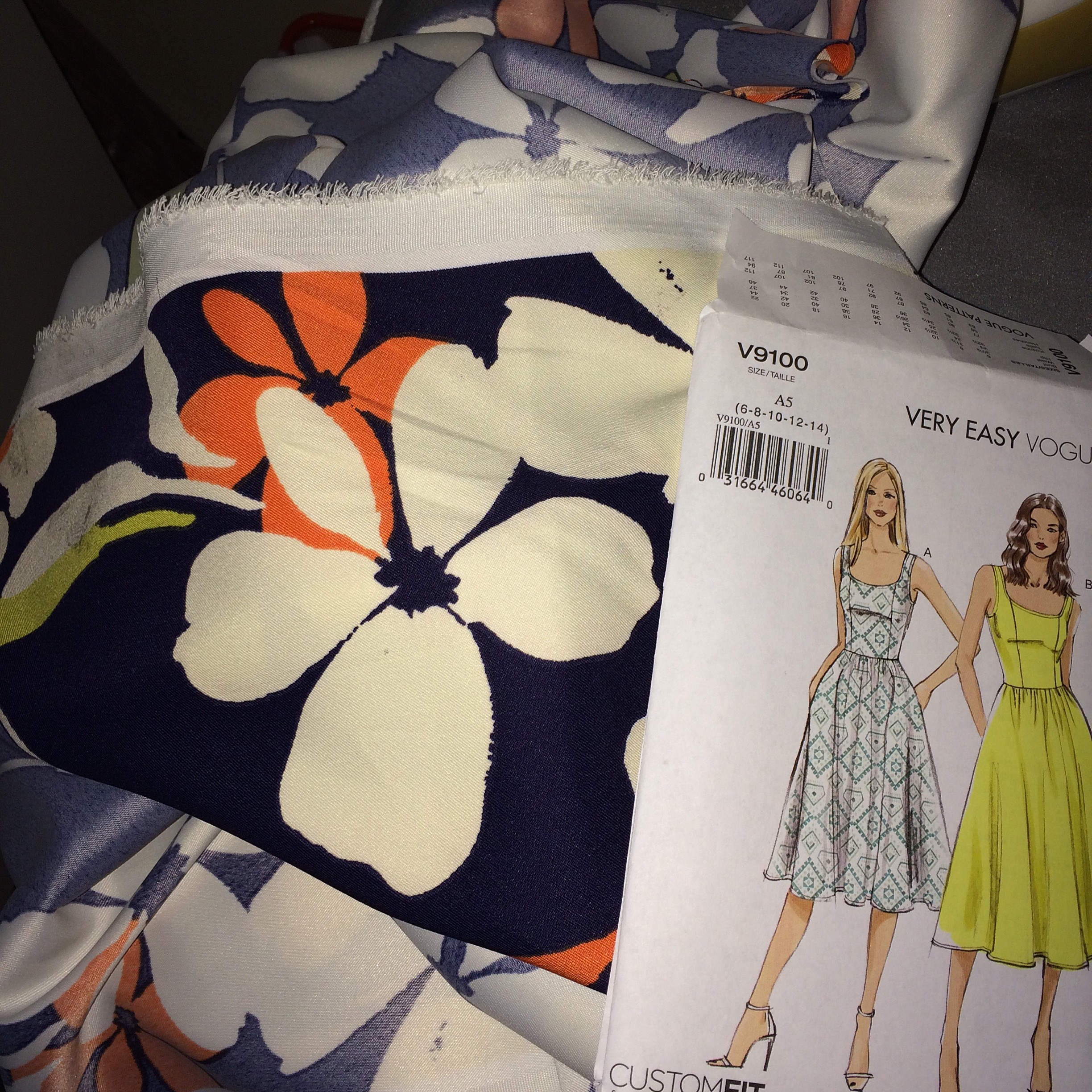 So I create this dress with the fabric above using
Vogue 9100
. I had this fabric in my stash but it came from
Fabricmart Fabrics
. Its a cotton twill with a bit of stretch to it. I cut the custom fit size 14 but I could have used a 12 because of the stretch. I wind up taking out about 2 to 3″ in the back because it did not fit.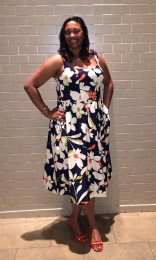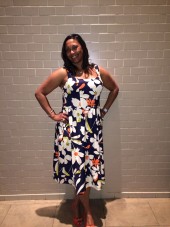 I just love that this skirt is flowy but with gathers vs pleats.. The princess seams and use of the D cup really fit nice and I had no fit issues. The back fit close to perfect with the exception of taking our a few inches.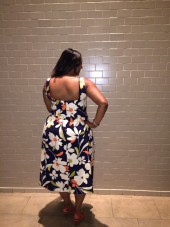 The major plus about this dress is it has pockets! I do not know why pockets on a dress have become such an obsession lately! But I just made a shirt dress without pockets and I so regret it, I keep searching to put my hands in my pockets all day!
Anyway I love my dress its so fitting to kick it off with these cute Micheal Khors shoes that I got a few years ago.. cute gold hardware bow and kitten heel!
Do you like my dress? 🙂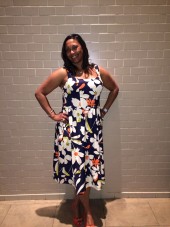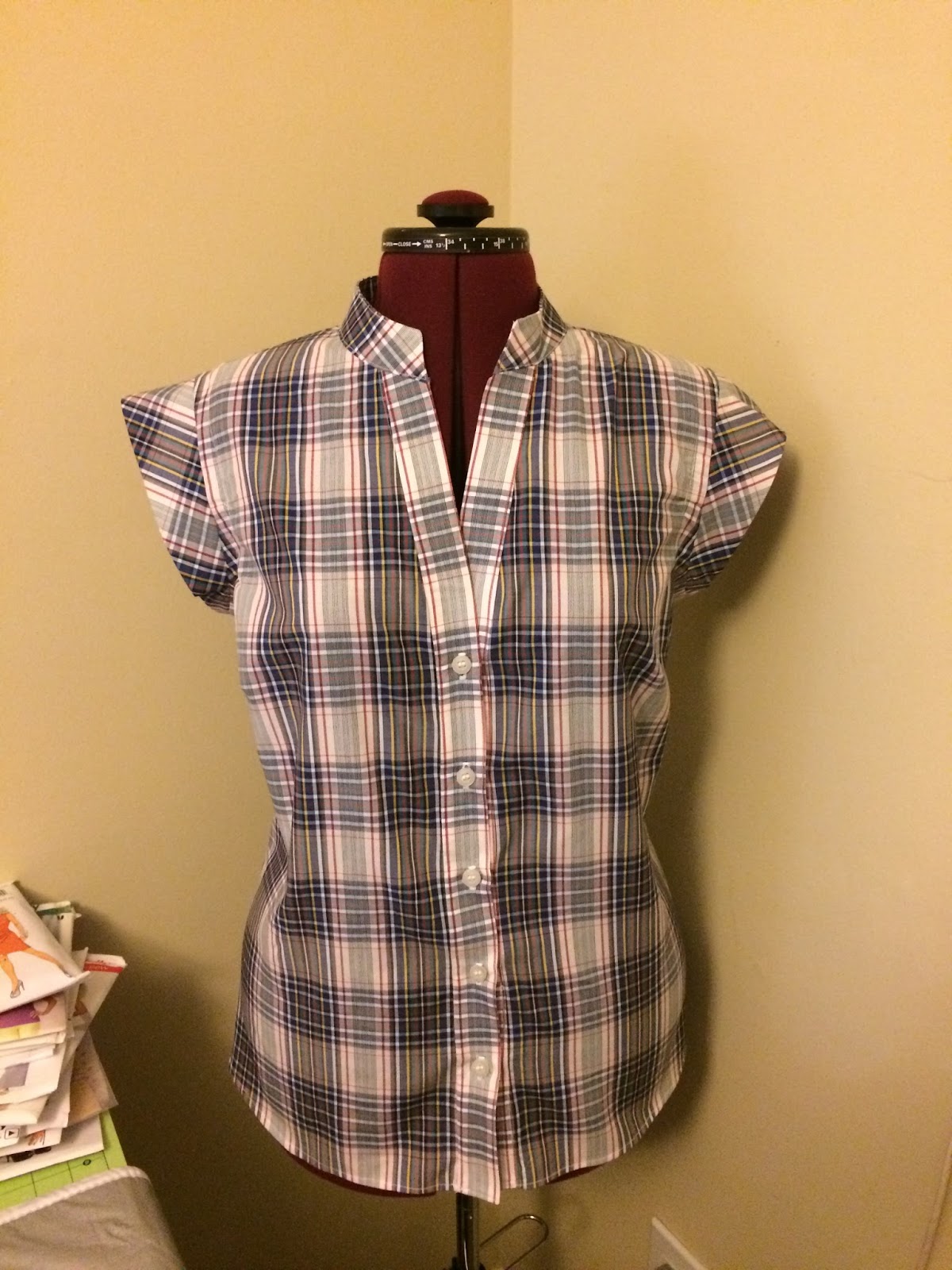 Hi again Darlings!
I have been busy sewing but not posting as I should be 🙁 I know I always promise to do better — well I will do and not talk about it but be about it.
I actually made a bowtie from the same fabric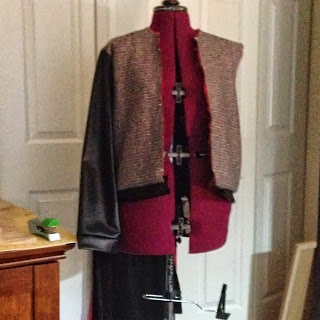 At 8:00 am yesterday morning the jacket looked like this ..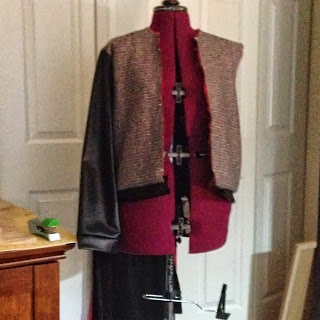 By 9:30 PM the jacket was completed to this below!
This is a leather and wool tweed jacket made with lambskin leathers from
Michael Levine Fabrics
. The wool and tweed was purchased from A Fabric Place in Baltimore, zipper from GStreet Fabrics. I have to say the pattern was fairly easy, the only difficulty came when attaching the collar.
Alterations:
The leather sleeve was attached to the bodice then the lining inserted versus the instructions who have you inserting the lining into the sleeve then attaching the sleeve and over-locking.
Project Review Detailed
Pattern Description: Lined baseball jacket
Pattern Used: New Look 6226
Pattern Sizing: 14
Did it look like the photo/drawing on the pattern envelope once you were done? Yes, just like the pattern but with alterations
Were the instructions easy to follow? Yes!
What did you particularly like or dislike about the pattern? Nothing its a great sporty jacket
Fabric Used:
100% Wool Tweed and Lambskin leathers from
Michael Levine Fabrics
Pattern alterations or any design changes you made:
Just changed how the sleeves are inserted with the lining.
Would you sew it again? Yes, I can see this in a silk or Quilted but not this season!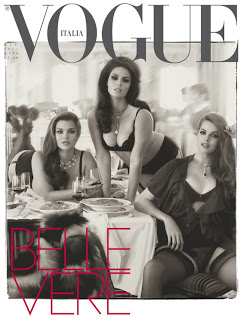 Good Day Curvy Girls!
This will be my blog post for the Curvy Girls are Chic Blog!
I debated for sometime what my first blog would be about, while I desire to mostly blog about myself who is a "shrinking" curvy girl and my fashion / shopping addiction. I will and desire to focus on other issues and areas of fashion and shopping.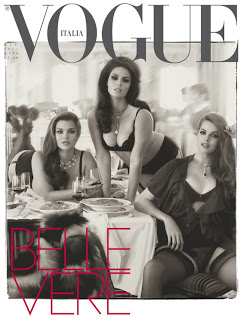 While doing my daily online "wish" shopping I came across an article in Vogue Itilia. This article was published in June 2011 about seeing more plus-sized models in fashion magazines.
I am very proud to see this article as well as the photos of the chosen three models. I was not aware that Vogue Italia did this issue on plus-size models and I have to say it is tastefully done! While some of the photos are nude it disposes the myth of how curvy girls really look. I am so happy to see this feature in Vogue Italia and I can't wait to see more. It reminds me of the black issue that they did two years ago that no one has done since.
Do I think we will see more of this in the states? No I do not, we still have people who say they were sickened at the sight of seeing Janet Jackson's breast *side eye*. So more real curvy girl photos in magazines isa long way coming however the fact remains that it is coming.
Here are more photos of the June 2011 issue here (disclaimer about photos):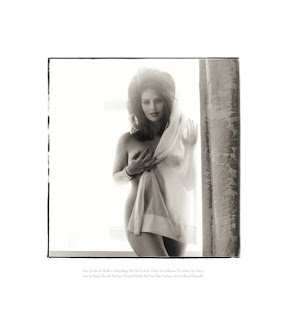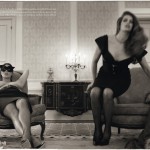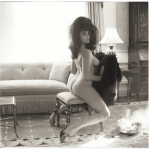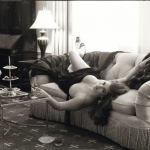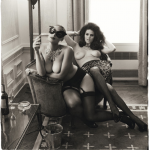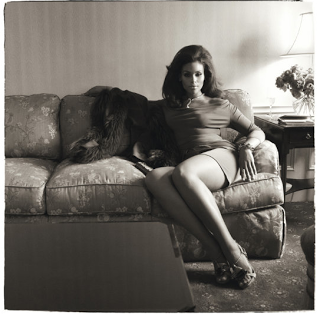 View the photos and leave feedback on my first blog post.
Please be considerate and do not post links for advertisements or other blogs here.