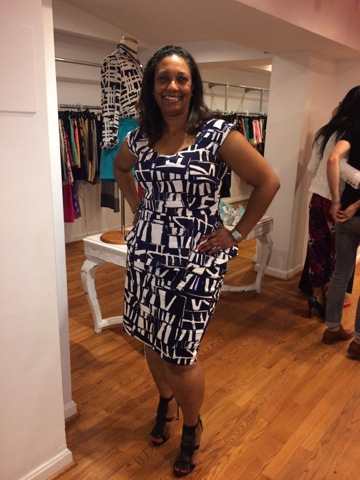 Hello darlings!
Its been a great summer or parts of it LOL it has rained a lot here in the DC area *side eye* and really a pause for being of fashion great! However the sun has come out and with a vengeance! Average temperature 84 degress.. whoot woo!
More about my outfit below
Even the day of this blogging event it rained, drizzled, thunder storms.. urgh! While that COULD be romantic IF there were one you were sharing it with but .. I digress..
The event was held on June 17th and it had a lot to offer including one of the local hair shops doing hair braiding.
As you can see she braid part of my hair right down the middle in a partial braid.
Two of the assistants for the night they were impressed with my Juliette Jake clutch and wanted to know if I would like to sell it LOL no I am actually seeking a Red one..
The top of the clutch actually wraps all the way around the clutch I love it!

Some of the high end items you will find here at Reddz Trading…

This is my outfit the day of.. blasphemy so ashamed back fat that has to go!
The front is fine LOL .. this is Simplicity 1373 and a self-drafted Pencil Skirt. For the top I actually did the spread method and made the peplum just a little more flowy..
The fabric was from my stash, I purchased this fabric from Mood Fabrics it was the last piece of Oscar De La Renta cotton on the bolt it sewed great!
Top is Simplicity 1373 – Self Drafted Skirt
I thought it looked cute with my BCBG shoes found here.

You like 😉
Pattern: Top – Simplicity 1373 Skirt – Self-Drafted
Shoes: BCBG see link above
Watch: Michelle Classic Chrono
Nail Enamel: Dior Glory Special Edition 2014