Pretty Polka Dot Dress with Vogue 1395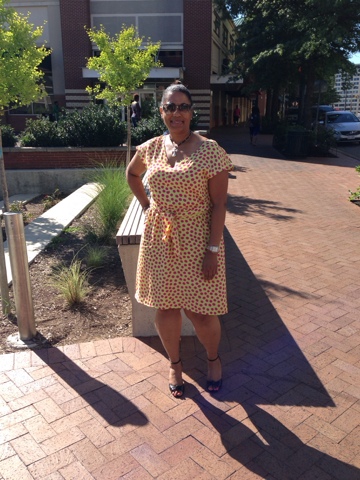 Beautiful Morning in Downtown Silver Spring! Thanks Brittney for the photoshoot 🙂
This is Vogue 1395 and the Fabric I used is from
G Street!
It was the last piece on the roll! Love love love the feel of this its a rayon with no stretch.. Its a nice sunny yellow with pink polka dots..
This was constructed a bit differently where you made an additional piece for the back with gathers at the top and it ties in the front.. It really didn't take that long to sew but be mindful of the instructions as they can be confusing..
I made mine a tab bit longer than the pattern and the models.. Cause I just like it that way lol no fit problems.. I cut a 10 on the top and a 12 on the bottom and widened the hips :-9 I did not care for the lining for the skirt so I just omitted it..
By the way pay no attention to the massive ball on my head.. its the summer and its hot! lol I get a blow-out later!
Cute hun 😉
Sunnies: Gucci
Necklace: DIY with beads from Fusion Beads
Watch: Michelle
Bracelets: David Yurman
Shoes: Ann Taylor