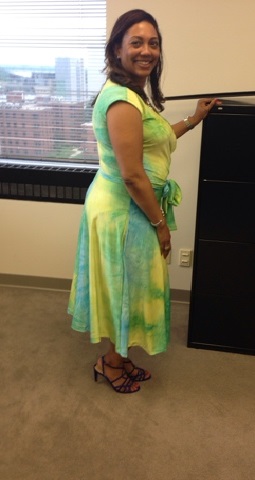 URGH! Its so hard trying to get good (or decent) photography done right away. I am thinking of hiring someone but that is costly and two I have to go a great distance and BRING all my props.. No bueno! Anyhoo this is what I have today and this is why I have not blogged. Followers and non-followers pay more attention when you are actually modeling the clothing.. Anyway here is my review of the pattern and fabric..
Pattern
Description: Vogue 1027 Misses' Dress: Calf length dress has semi-fitted, pleated
and lapped bodice, bias skirt with inseam pockets and stitched hems.
Pattern
Sizing: 8 – 12 — I cut a 10 for the top and 12 for the bottom,
which were more than generous and fits well.
Did
it look like the photo/drawing on the pattern envelope once you were done
sewing with it? Yes, just like the photo!
Were
the instructions easy to follow? Yes for the most part,
the belt is attached to the dress. I
should have made the belt longer to so it could wrap twice.
What
did you particularly like or dislike about the pattern?
I would like to see dresses like this give an option for D cups :-9
Fabric Used:
It's a Crystal Tie-Dye from Michael Levine Fabrics in LA 92% Polyester / 8% Spandex. This knit fabric has an ultra-soft
plush hand and has a crinkle knit texture on stretch polyester. It is perfect
for stylish tops, t-shirts, dresses, and skirts.
Pattern
alterations or any design changes you made: Mad the bodice
a bit longer, I could have made it a bit shorted and I should have added a bit
of width to the top. Why? Because I need
to add a pin to it if I am wearing it work hence you see a bit of pulling in
the top.
Would
you sew it again? Would
you recommend it to others? Yes, making the alterations I mentioned.
Conclusion:
Great dress and I would sew this again!
Do you like it 🙂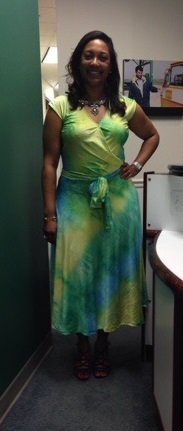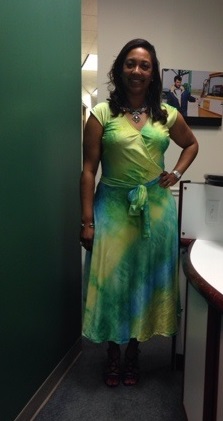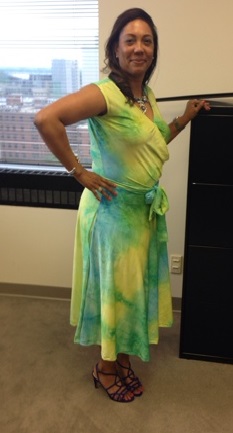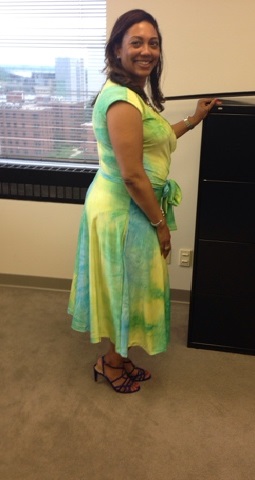 Shoes: Blue Suede (oh so soft oh so comfee) Via Spiga
Watch: Michelle Art Deco
Bracelets: David Yurmen
Necklace: JCrew