Fabricmart Fabricista Week 1 Challenge — Handmade Do-Over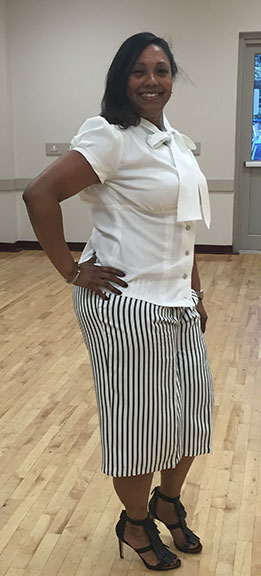 The Week One Fabricista Challenge is done and ready to vote!
We had to take a project that was a "fail" and re-do the project.. I choose a pair of culottes below to "do-over."
Tell us about the project –
Culottes made a comeback this summer although they never left some fashionistas wardrobe. I like them because they are in between the length of shorts and pants and most look similar to an A-line skirt because of its drape.  I purchased this black and white stripe fabric from Fabric Mart initially to create culottes and a blazer (an updated summer suit). When I received the fabric the stripe is horizontal vs vertical which I found challenging as the stripes when against the grain vs with the grain. So I decided to just create the culottes with Burda Pattern Burda Pattern 6812 I chose this pattern because they were not too wide or too slim.
Here is the situation: Initially when I took, the pattern out I said "these pattern pieces seem a small? I took my measurements against the pattern pieces and said hummm this says it will "fit" even with the ease. The one joy about sewing for yourself is you can fit before the garment is finished.. You can even stick one leg in one pants leg to see how it will go. Well yes, they "fit" but the fit is too tight! I also found it very challenging with the pockets, matching the stripe with the pocket yoke because a huge challenge.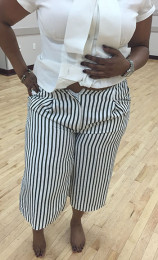 [spacer height="20px"]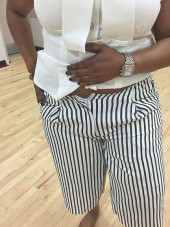 [spacer height="20px"]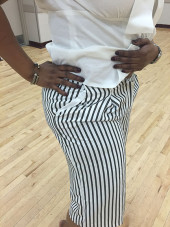 [spacer height="20px"]
Craftsmanship / Do Over – I decided that I did not need the pockets, the show through the white fabric and it is not very attractive.  If you have white pockets in white pants, it should be done with "flesh-tone lining or fabric." Therefore, I eliminated that.  I took the pattern pieces and compared them to another similar pattern and for sure this pattern is many times too small. The size 14 was bigger on the McCalls then this Burda.. I digress I still used the same Burda pattern, recut the pieces, widened the hips, raised the back rise, and I also added belt loops in case I ever wear them with a tucked in blouse. I also changed the front pleats – initially these culottes had one pleat but I divided the pleat in half, added a pleat (for two pleats), and placed the pleats directly on a dominant stripe.  I hemmed the pants with lace hem tape. The waistband and hemming were never completed in the first pair they just went to the corner of shame L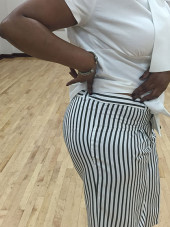 [spacer height="20px"]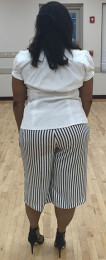 [spacer height="20px"]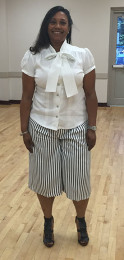 [spacer height="20px"]
Fit – The pants fit much better, there is no cutting in the crotch area, it is not pulling in the rear area and I have room to move in the waist and the hips.
[spacer height="20px"]

[spacer height="20px"]