Spring is Coming! McCalls 6844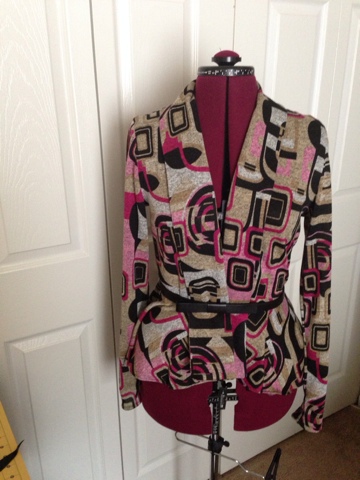 I ordered this pretty piece of sweater knit from fabricmart.com; I originally ordered to create a wrap dress but it was too light for that. I would need tricot lining and this and that and I just did not want to go through the drama so I decided to create McCalls 6844 you see below.
As I mentioned the fabric is quite light so it will be perfect for the spring transition of weather; stylish yet simple and it has a mix of colors that can be worn in the office when the heat is not enough or if the AC is on too high! Ladies you know what I speak of..
Pattern Description: Loose-fitting front tie crop top
Pattern Sizing: xs-small-medium (I cut the medium)
Did it look like the photo/drawing on the pattern envelope once you were done sewing with it? Yes exactly, only needed interfacing for the collar.
Were the instructions easy to follow? Yes very easy, with cutting time it took about three hours to sew.
What did you particularly like or dislike about the pattern? Since the fabric was so light-knit I did not need to use the ease method for the sleeves — love love and winning!
Fabric Used: light-weight knit from fabricmart.com
Pattern alterations or any design changes you made: None, just made the sleeves a wee bit longer but I do not think I needed it because of the fabric.
Would you sew it again? Would you recommend it to others? Yes, I certainly would its adorable!
Conclusion: I did not find this pattern difficult at all, I can probably sew it without the instructions next time.